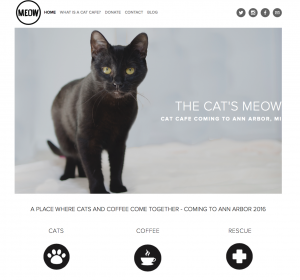 There's a planned 2016 opening of a cat café, The Cats Meow Café, for Ann Arbor, Michigan. It's only a matter of time until this catches on across America:
"I always said that if I was going to open a business, that's exactly what I would do," Bono said. "After I realized it can be possible here, I started writing a business plan and I've been researching for the last six months or so."

Bono's café will be called The Cat's Meow, and she's aiming to open in 2016.

A wildly popular concept in Japan – that actually started in Taiwan – cat cafes have started making their way to the U.S. over the last few months with the first one opening in Oakland, California. Last week, a Grand Rapids entrepreneur announced plans to bring a cat café to the city.

Cat cafes operate as a coffee shop/adoption center where cats live in the same space as the coffee shop. The cats are provided by local rescue centers and are available for adoption.

"It's supposed to bring (the cats) to the public more and bring more adoptions," Bono said. "The idea is that they're freeing up more space at the recuse center for more adoptions."

The cats are kept in a separate area of the building than the actual coffee shop for health reasons, but patrons who want to take their drinks into the cat area can pay a small fee to do so. Then they can enjoy their coffee and play with the cats at the same time.

While it seems like an odd concept, supporters of cat cafés like Bono say it serves a great purpose for people who can't have cats in their homes or apartments, but still want to enjoy a feline's company on occasion.

Bono said she has run the idea through the proper channels and said licensing shouldn't be a problem. She plans to open the cafe part time while continuing her job in sales at MLive Media Group.
Posted at Daily Adams and FREE WHITEWATER.